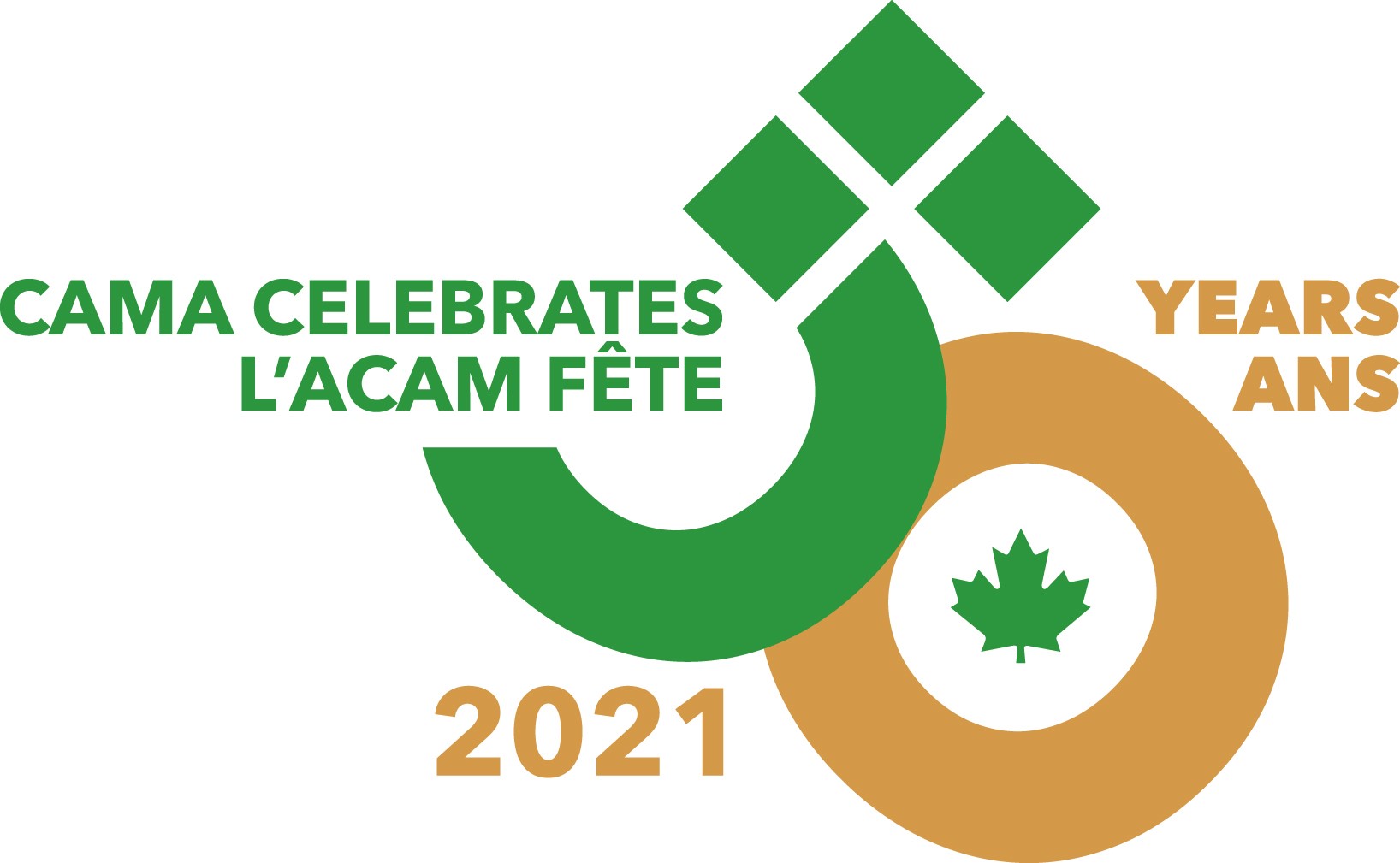 50TH Anniversary of the Canadian Association of Municipal Administrators
CAMA was founded in 1971 and emerged from the participation of senior municipal managers attending the Federation of Canadian Municipalities (FCM) Annual Conference.  Over the past five decades, CAMA has grown to an Association of over 650 senior municipal leaders across Canada dedicated to achieving excellence in local government and also establishing a much needed network nationally.  2021 marks the golden year of our Association.
Watch for our storyboard outlining CAMA's 50th Anniversary Celebrations based on the following five decades including social media, interactive components and our history.
2010 to 2020:  The Next Ten Years
2021 and Beyond: Looking Ahead
Professional Development Series 
As part of our ongoing commitment to our members we are pleased to introduce the CAMA Professional Development Series for 2021.  This new program will be comprised of various webinars that are coordinated for the CAO/City Manager, senior managers and their employees.   Along with our own webinar series, CAMA Partner companies will be providing educational and informative learning opportunities that showcase innovative services and products relevant to municipal management.   Free of charge to all CAMA members this will be a wonderful way to provide an eclectic selection of resources to all your employees.  Check the Calendar of Events regularly for updates.  
Timeline 
50 years in the making – 5 decades of innovation, changes, and ideas.  Help us complete a timeline with photographs from the last fifty years.  We are also looking for retired CAMA members who would be willing to share their experiences of municipal governance during the early years of the CAMA. 
While we would much rather celebrate with all of you in person, we will have to settle for a virtual journey of sorts.  Over the next year, we will be revisiting each of CAMA's five decades of service, and speaking to the people who helped build the organization over the past 50 years.  From that first meeting in a board room at an FCM Conference in Western Canada, to today's thriving network of over 600 strong, our accomplishments are many and varied.  
Our story starts at THE BEGINNING– the 1970s.  Born out of a meeting of the Canadian Federation of Mayors and Municipalities, CAMA started small and out of a necessity for administrators to engage in their own meetings separate from the elected officials.  
A small but mighty group, focused on networking and building up the profile of the profession, it wasn't until the 1980s, when BIG CHANGES saw the formal incorporation of the Canadian Association of Municipal Administrators, with a new awards program, exchange opportunities and an improved membership fee structure.  Enhanced communications saw more frequent 'bulletins' to the membership and more attention paid to engaging the nationwide network.  This decade was the foundation for a strong professional organization moving into the future.  
BIG IDEAs came in the 1990s, as local government became a federal priority and a task force was developed to generate dialogue and raise the profile of local government across Canada. Several new partnerships and programs were launched and technological advancements drove the second half of the decade.  After a few tough years, and a renewed vision and image, CAMA finished the 90s with their first website and a desire to build a bigger and better organization.   
Y2K. With the launch of a new century came the launch of the CAMA conferences much like we see them today. Sponsorship improved, the tradeshow expanded and CAMA began to brand itself as an agent for excellence in municipal government management.  Electronic mail became a more efficient way to network and grow the membership, and the website was translated and more layers added to meet the needs of the members and adapting to the changing local government landscape. Perhaps the most significant event in BUILDING A MODERN-DAY CAMA took place in 2005, when the administration of the Association moved to it's new home in Fredericton, New Brunswick, and the governance model that we know today was born. 
The LAST TEN YEARS has seen CAMA grow significantly, and since 2010, has adapted and responded to the everchanging needs of City Managers. Membership has grown consistently, and the organization prides itself not only on administrative excellence, but on transparent operations, value in professional development, enhanced guidance and leadership on key issues, and an annual conference that is second to none. The strategic direction of CAMA has built a financially sound and sustainable organization well positioned for the future. And despite the challenges in recent years, including the worldwide pandemic, the Canadian Association of Municipal Administrators continues to rise above those challenges. We can't wait to see what the next 50 years will bring.  
We hope you will come along with us as we celebrate 50 amazing years of administrative excellence in Canada and share your memories and experiences along the way. For more information and to connect with us, please visit www.camacam.ca