MEMBERS IN TRANSITION TOOLKIT
Image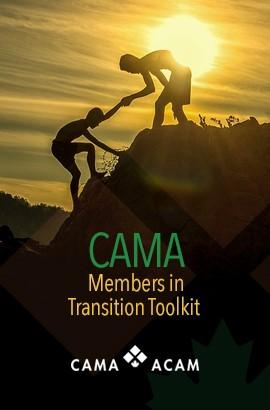 When a municipal Chief Administrative Officer (CAO) experiences the turmoil and emotions that immediately follows a transition, it is often difficult to think about the resources needed and/or where to find them quickly.  CAMA's "Members in Transition Toolkit" will assist members, as well as their companions and families.
The toolkit is available by visiting the Members' area of the CAMA website.
CAMA defines a member in transition as "a regular member who involuntarily ceases to be employed in a management capacity in the administration of a Canadian municipality and/or regional municipality."  Currently, the Association carries members in transition by covering their membership for one year and offering complimentary registration to CAMA's annual conference. 
Everyone experiences transition in their own way and throughout the project we learned that often just hearing the experiences of others can be helpful.  It became evident, however, that having the right tools and resources available when needed made the transition easier.
Key observations from the exercise indicated that preparing for any possible transition starts before accepting a CAO position.  Having a good solid contract or employment agreement appeared to make the transition easier for many.  It also appeared that having immediate and continual access to good resources appeared to make getting through transition easier.
The effects of transition vary depending on the member's situation, but younger persons reported being affected much greater financially than those closer to retirement.  The majority of time, transition appears to occur simply because of a change in the political environment and the vulnerability of the CAO position.  Legislation in some provinces/territories is quite clear and limits the reasons a CAO can be dismissed.
The goal of the Toolkit is to provide:  peer support and guidance; inspirational quotes and practical tips from those who have experienced transition; and, easy links to professional resources across the country.  The Toolkit is divided into three parts:
Pre-Transition (Something's up? I feel it coming!)
During Transition (It's happened. Now what?)
Post Transition (Let the healing begin!)
The Toolkit also features a checklist for companions, ongoing peer support, ask a peer / contact a mentor, and a feedback section. 
While nothing anyone says can really prepare someone for a career transition, hopefully the Toolkit can guide members in transition along the journey.
Got questions?  Want more information?  Contact Jennifer Goodine, Executive Director, CAMA National Office, 1-866-771-2262, admin@camacam.ca.