Image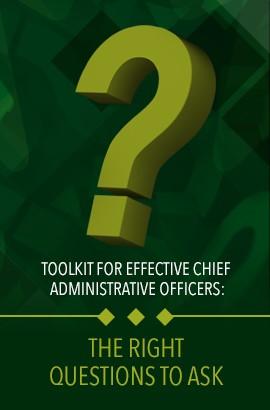 TOOLKIT FOR EFFECTIVE CHIEF ADMINISTRATIVE OFFICERS:  THE RIGHT QUESTIONS TO ASK
Recognizing the importance of building a team within any organization, CAMA developed a "Toolkit for Effective Chief Administrative Officers:  The Right Questions to Ask" which is available to members by visiting the Member's Section (Toolkit area) of the CAMA website. 
This toolkit is meant to be a resource to support our members whether they are just starting their job as a CAO (or senior administrator) or have been in the role for some time in a new community or one they've been in for many years.  It will assist all of our members with building a team with their staff and Council.  No one is born a local government administrator.  Each of us comes to this role by way of a path of some kind.  Being an effective CAO is not about knowing everything; it is about asking the right questions and challenging appropriately.  This resource is a guide to support CAOs in their work.  One of the most powerful management tools that you can have at your disposal is very basic…the question.
The Toolkit will provide the following tools:
Sample Questions for Council.  It is important to build and maintain a strong relationship with your Council and asking them questions will help to learn more about them as individuals and as a team.  Some questions have been included to help you establish a strong Council-CAO working relationship.   Meeting with Council first will also help guide your questions to your senior management team based on their feedback.
Sample Questions for each Division and Department.  A template has been provided of sample personal, operational and specific questions that a CAO can ask their various Department Heads, Commissioners, Chiefs, and Managers about their operations whether you are just starting your job or have been in it for some time.  The questions have been drawn together to offer food for thought and useful prompts that take Departments beyond operational discussions.  They are questions that a CAO, in any size municipality, should be asking their staff to ensure that the right issues are raised, and that transparency and effective oversight are achieved with the common goal of having a successful community and being able to respond to requests from citizens and Council efficiently.  At the end of this toolkit you will find a checklist of some questions that you can ask yourself after listening to your management team and Council that will help you identify your organization's capacities and needs, and the community's culture and values.
A Resource for your Executive Team.  In addition to being invaluable for CAOs, this resource is also a very useful tool for the Executive Team in understanding the kind of questions their CAO are likely to ask to learn more about the operations.  Change is also difficult for the senior management team and it too creates a lot of anxiety.  Therefore, a section has been included about how to deal with a change in leadership and the direction of an organization.
Each chapter and section is organized to help you quickly access information.  Organizational structures vary and the names of Departments and Divisions differ, but the questions are typically all the same.
CAMA hopes that this toolkit will become a valuable resource to support senior administrators in their careers.