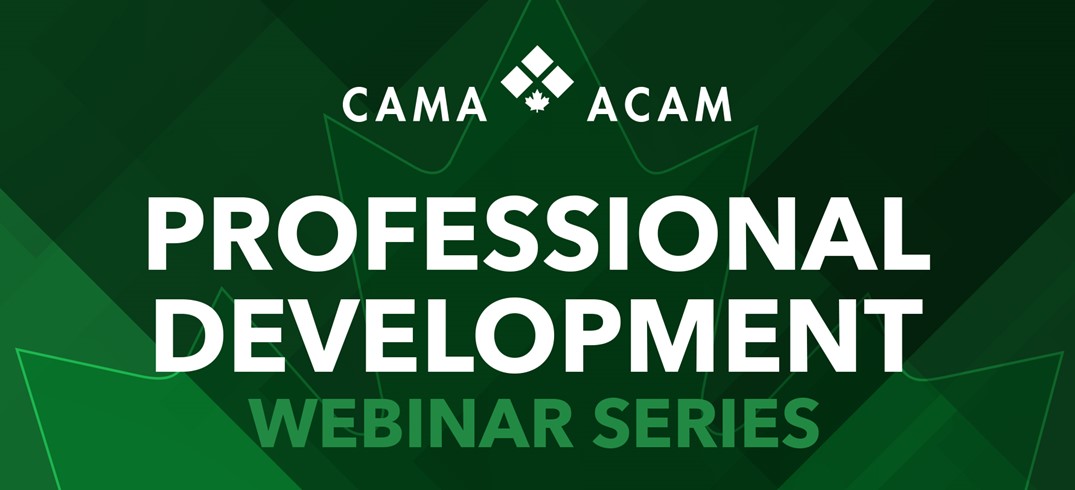 As part of our ongoing commitment to our members we are pleased to introduce the CAMA Professional Development Series.  This program is comprised of various webinars that are coordinated for the CAO/City Manager, senior managers and their employees.   Along with our own webinar series, CAMA Partner companies will be providing educational and informative learning opportunities that showcase innovative services and products relevant to municipal management.   Free of charge to all CAMA members this will be a wonderful way to provide an eclectic selection of resources to all your employees.  

Virtual National Forum Hosted by Canoe Benefits
"Pivoting Towards Virtual Health Care"
Tuesday, December 13, 2022 / 2:00 p.m. to 3:00 p.m. EST
Who Can Attend this Webinar?  CAMA Members and Their Employees.  Non-Members are also welcome to attend.
Registration Cost:  FREE but registration is required by emailing admin@camacam.ca 
About this Session:  Ensuring healthcare services are easily accessible for your employees can provide real value to your organization. This webinar will go over the employee and employer benefits of virtual health care; and will help you navigate the virtual health services available including, mental health care, primary care & care management, pharmacy, and health coaching. 
Changing the Game in Workforce Mental Health - Virtual Preventative Mental Health Care
Presented by: Dr. Ryan Todd, MD, FRCPP – CEO, Headversity 
Dr. Ryan Todd is a psychiatrist and technologist, founding the workplace mental health and resilience platform headversity. Ryan is also an award-winning documentarian, a Top 40 under 40 recipient with Avenue Magazine, a published researcher, and host of the popular HR podcast "Beyond the Check box" .  
Navigating Virtual Health Care Services 
Presented by: Judy Plotkin - VP Health Solutions, People Corporation 
Judy will be breaking down the real value of virtual healthcare services including: 
-    Paid vs free services 
-    Services specific to your region 
-    Services included with your benefits provider / broker 
-    Helping your organization save money on benefit costs 
-    Making practitioners more accessible
-    Reducing wait times for specialists
-    Reduced prices for employees to see specialists (making benefit dollars go further)
-    Reducing employees time away from work 

Virtual National Webinar Hosted by HotSpot Parking
Thursday, January 26, 2023 / 2:00 p.m. to 3:00 p.m. EST
Speaker:   Phillip Curley, Head of HotSpot
Who Can Attend this Webinar?  CAMA Members, Their Employees, and Elected Officials.  Non-Members are also welcome to attend.
Who Will Benefit from this Webinar?  CAO's, Clerks, and By-law, Finance and Economic Development Department Employees.
Registration Cost:  FREE but registration at this link.  
One year since we presented to CAMA about Digital-First Parking Programs, they continue to prove the highest return on investment.  Whether creating a new revenue stream, expanding an existing program, or simply reducing hardware upgrades, digital parking solutions are solving these problems with very little expenditure.  Since last year, HotSpot's approach to digital-first parking has seen success in multiple Municipalities across Canada.  For example, saving the City of Saint John approximately $24,000 in expensive EMV hardware upgrades; and Pickering Ontario saved approximately $700,000 in parking infrastructure, while processing over thousands of transactions this summer.
Following 2022's CAMA webinar hosted with HotSpot and Jasper, Head of HotSpot Parking, Phillip Curley returns to share another experience and lessons learned.  Alongside our partner's Teresa Olsen, County Clerk, and Jim Millson, Supervisor of By-Law, from Norfolk County, Ontario.  Norfolk County's popular beaches are a tourist haven for residents around the GTA.  Norfolk initiated a digital-first pilot program to create new revenue, manage demand, and recoup funds for the infrastructure being used.  Join us to talk numbers, highs, lows, considerations, Council, and how digital solutions can adapt to all parking scenarios.