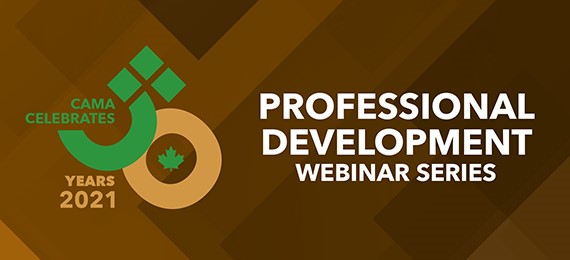 As part of our ongoing commitment to our members we are pleased to introduce the CAMA Professional Development Series.  This program is comprised of various webinars that are coordinated for the CAO/City Manager, senior managers and their employees.   Along with our own webinar series, CAMA Partner companies will be providing educational and informative learning opportunities that showcase innovative services and products relevant to municipal management.   Free of charge to all CAMA members this will be a wonderful way to provide an eclectic selection of resources to all your employees.  

January 2022 – CAMA Professional Development Webinar
Wednesday, January 26th, 2022
Climate Change and Resilience:  Legal and Practical Municipal Tools
2:00 p.m. to 3:30 p.m. EST
Speaker

:  Donald Lidstone, Q.C. Lidstone & Company Local Government Lawyers
Who Can Attend this Webinar?:
CAMA Members and Their Employees.  Non-Members are also welcome to attend.
Registration Cost

:  FREE but registration is required by emailing admin@camacam.ca 
Climate Change and Resilience: Legal and Practical Municipal Tools
Climate and energy action: energy and reduced GHG emissions for new and retrofitted buildings; community amenities for climate action and adaptation; new landscaping, afforestation and horticulture rules; water conservation; nature-based solutions; drainage design and stormwater management; urban infill; social and economic inequalities; solo dwelling occupancy; and funding the local orders of governments' compliance with Canada's commitments.
Donald Lidstone, Q.C. Lidstone & Company Local Government Lawyers
Don has practiced municipal law since 1980. His focus is in the areas of local government governance, finance, land use and bylaws. He has chaired numerous boards and commissions. Don has published numerous papers and manuals and consulted on the development of the BC Community Charter as well as other municipal statutes in several Provinces and Territories.  He was designated Queen's Counsel in 2008.