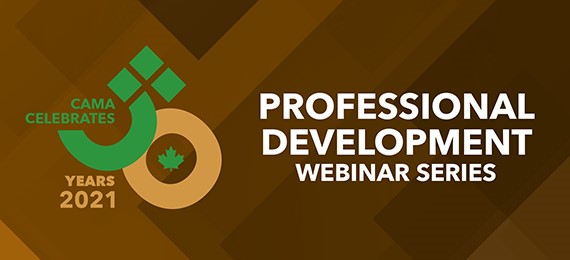 As part of our ongoing commitment to our members we are pleased to introduce the CAMA Professional Development Series.  This program is comprised of various webinars that are coordinated for the CAO/City Manager, senior managers and their employees.   Along with our own webinar series, CAMA Partner companies will be providing educational and informative learning opportunities that showcase innovative services and products relevant to municipal management.   Free of charge to all CAMA members this will be a wonderful way to provide an eclectic selection of resources to all your employees.  

May 2022 – CAMA Professional Development Webinars
Virtual National Forum for CAMA Members
Hosted by The Canoe Procurement Group of Canada
Thursday, May 26th, 2022 / 2:00 p.m. to 3:00 p.m. EST
Who Can Attend this Webinar?:

 

CAMA Members and Their Employees.  Non-Members are welcome to attend.
Who Will Benefit from this Webinar?  Chief Administrative Officers, Financial Officers, Purchasing Staff, Public Works and Engineering Staff, Fleet Staff.
Registration Cost:  FREE but registration is required by emailing admin@camacam.ca 
The Canoe Procurement Group of Canada helps municipalities, not-for-profit, and public sector organizations across the country with their procurement needs.  Representing over 5,000 member organizations, the benefits of Canoe membership continue to grow.  This session includes Canoe's procurement experts speaking to a more wholistic approach to purchasing - the total cost of procurement.  Going beyond just the sticker price, this session will focus on the concept of considering both the direct and indirect costs and looking at the lifecycle of a purchase.