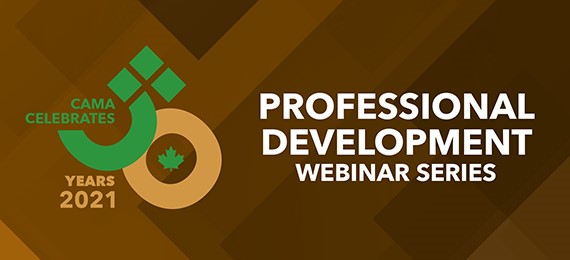 As part of our ongoing commitment to our members we are pleased to introduce the CAMA Professional Development Series for 2021.  This new program will be comprised of various webinars that are coordinated for the CAO/City Manager, senior managers and their employees.   Along with our own webinar series, CAMA Partner companies will be providing educational and informative learning opportunities that showcase innovative services and products relevant to municipal management.   Free of charge to all CAMA members this will be a wonderful way to provide an eclectic selection of resources to all your employees.  Check the Calendar of Events regularly for updates. 

September 2021 – CAMA Professional Development – 50th Anniversary Webinar Series
September 9, 2021:  Webinar Hosted by CSA Group and Insurance Bureau of Canada
Building Resilient Communities
1:00 PM - 2:00 PM EST
Speakers:  Michael Leering, Director of Environment and Business Excellence, CSA Group and Rob De Pruis, Director, Consumer and Industry Relations, Western, Insurance Bureau of Canada
Who Can Attend This Webinars?  CAMA Members and Their Employees. Non-Members are also welcome to attend.

Who Will Benefit from this Webinar?  CAOs/City and Town Managers, Planning, Development and Engineering staff, Public Works staff, and elected officials.

Registration Cost:  FREE but registration is required using the link below.
Link to Register