2018 CAMA Conference and Annual General Meeting – Fredericton, NB (May 28-30, 2018)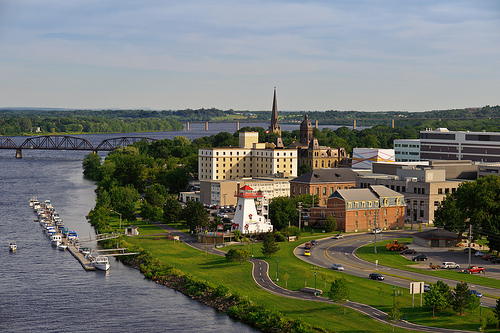 The 47th Annual CAMA Conference will be held in Fredericton, New Brunswick - the home of the CAMA National Office.  This event will take place from Monday, May 28th, 2018 to Wednesday, May 30th, 2018 at the Fredericton Convention Centre.  The host hotels will be the Hilton Garden Inn (connected to the Convention Centre) and the Crowne Plaza Hotel (directly across the street).   The Golf Tournament and other Pre-Conference activities will begin on Monday morning with the Conference Program ending after the President's Dinner on Wednesday evening.
The Fredericton Convention Centre (FCC) is conveniently located in the heart of downtown Fredericton.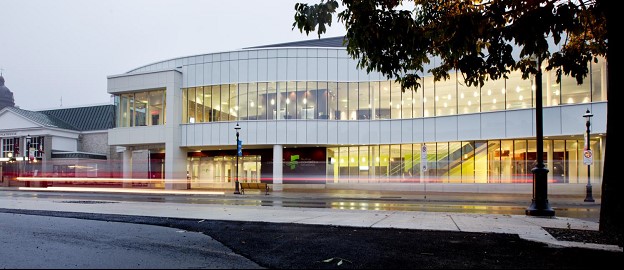 CONFERENCE PROGRAM
The Full Conference Program and on-line registration will be available at the end of February 2018.
You can also keep up-to-date with Conference news by following us on Twitter, @camalink, and by using the hashtag #CAMA2018.
ACCOMMODATIONS 
CAMA has secured a block of rooms at three hotels (Hilton Garden Inn, Crowne Plaza Hotel and the Delta Fredericton Hotel).  These room blocks will be released on Tuesday, December 5, 2017 at 1:00 p.m. EST.  The Hilton Garden Inn is a brand new hotel and is not yet set up to take direct phone calls or bookings at this time.
CONFERENCE REGISTRATION INFORMATION
Registration Fees
Register for the Conference by April 1st, 2018 and you will receive the Early Bird Rate. 
Please note that CAMA members who are attending their first CAMA Conference are eligible for a $150.00 discount off the registration fee.
| | | |
| --- | --- | --- |
| Delegate Type | Early Bird Registration Fee by April 1, 2018 (+15% HST) | Registration Fee after April 1, 2018 (+15% HST) |
| *CAMA Member (Municipal) | $675.00 + $101.25 HST = $776.25 | $725.00 + $108.75 HST= $833.75 |
| *First Time Attendee Members (Municipal) & Municipal Interns | $525.00 + $78.75 HST = $603.75 | $575.00 + $86.25 HST = $661.25 |
| *Non-Member (Municipal) | $875.00 + $131.25 = $1006.25 | $925.00 + $138.75 HST = $1063.75 |
| **Affiliate CAMA Member (Non-Municipal) | $975.00 + $146.25 HST = $1121.25 | $1025.00 + $153.75 HST = $1178.75 |
| **Non-Member (Non-Municipal) | $1175.00 + $176.25 HST = $1351.25 | $1225.00 + $183.75 HST = $1408.75 |
| Retired Member / Honourary Member | $375.00 + $56.25 HST= $431.25 | $425.00 + $63.25 = $488.75 |
*"Municipal" refers to an individual who is currently employed with a municipal government organization. 
**"Non-Municipal" refers to all other individuals. 
The registration fee for members, non-members, and municipal interns includes all Conference sessions, tradeshow, opening reception, breakfasts, refreshment breaks, lunches, Casual Night Out, the President's Dinner and the hospitality suites.  Additional tickets to the Casual Night Out ($115.00) and the President's Dinner ($125.00) can be purchased for companions not participating in the full Companion Program.
An additional fee will be charged for the Study Tours on Wednesday afternoon.
The registration fee for retired members/honourary members includes all Conference sessions, tradeshow, opening reception, breakfasts, refreshment breaks, Casual Night Out, and the hospitality suites.  At an additional cost, tickets can be purchased to the lunches ($35.00), the Study Tours/Wednesday afternoon speaker session, and the President's Dinner ($125.00).
Conference Registration for Members in Transition
Going in to "transition" is a very difficult situation that all too many members face at some point in their local government careers.  Any job change is difficult, but when its forced on someone for reasons that often have nothing to do with their job performance it can be traumatic.
If you are a "Member in Transition" and have been fired or forced to resign your position in local government and are now "in transition", CAMA will provide a complimentary registration for you.   Hotel and travel expenses are at your cost.  Register under the "Members In Transition" category on-line, but CAMA's membership department must have been notified of your status for you to use
TOURISM INFORMATION
Fredericton is the hidden gem of Atlantic Canada and will provide you with the classic Maritime experience enhanced by a thriving music and cultural scene, an unparalleled cluster of authentic attractions and a commitment to advanced technology.  Add in a close-knit walkable downtown featuring kilometers of green-space alongside the majestic Saint John River and you will discover a perfect combination of beauty, bands and bandwidth.  Fredericton has all the advantages of a small town: little traffic, easy walking, lots of green spaces and welcoming people.  Combined with the big-city amenities and smart facilities and people, it's the best of both worlds, and the best east-coast meeting destination.
In Fredericton, you don't just learn about our history, you experience it for yourself.  Stroll past the wrought iron fences that mark the Historic Garrison District, a National Historic Site.  Feel the drama and glory of Fredericton's historic past as a garrison town, complete with daily Changing of the Guard Ceremonies.
Fredericton is home to the most working artisans per capita in Canada with inspiration from our creative community found around ever corner.  From public art pieces, to historic buildings and galleries, including the world-renowned Beaverbrook Art Gallery - itself artfully set on the banks of the Saint John River.
No matter where you are downtown, within five minutes you'll find yourself in the middle of nature.  Its not just about the scenery; rent a kayak, run the trails, or hook onto a zip-line.  We've got your outdoor adventures covered!
Fredericton is practically overflowing with local craft beer, cider and mead, from new start-ups to award-winning breweries.  With the highest concentrated of craft breweries and tasting experiences in the Maritimes (13), Fredericton offers a brew for every taste.
Canada's first ever community-wide free wireless network was launched in Fredericton almost a decade ago, and we are still leading the way in IT and connectivity.  With more than 100 km of fiber optic bandwidth throughout the city, supporting the Fred- eZone wireless network, you will be connected at your hotel, convention centre, in the taxi, or relaxing on a park bench.
Come early and stay late in the Capital City of New Brunswick!  We look forward to welcoming you!  For more information visit the Fredericton Tourism website.
TRANSPORTATION
The Greater Fredericton Airport, serviced by Air Canada, West Jet and Porter receives multiple direct daily flights: Toronto (7), Ottawa (2), Montreal (3) and Halifax (4). Toronto is the major hub connecting Fredericton to the rest of the world.  The airport is 14 kms (a 15 minute drive) to downtown Fredericton with a taxi fare of approximately $25.00.
With convenient highway links we are within a day's drive from Halifax, Charlottetown, Montreal, Ottawa, and other New Brunswick cities.  With the FCM Conference happening in Halifax following the CAMA Conference, you will have a quick one-hour flight or a beautiful 4.5 hour drive from Fredericton.
EXHIBITOR TRADESHOW
If you have any questions on the Exhibitor Tradeshow, please contact Rose Fernandes, Manager of Partnership and Exhibitors at 1-866-771-2262 or rose.fernandes@camacam.ca
FUTURE CONFERENCES
2019 Conference:  May 27-29, 2019 in Québec City, QC
2020 Conference:  June 1-3, 2020 at Deerhurst Resort, Muskoka, ON
2021 Conference:  May 31 - June 2, 2021 in Montreal, QC
2022 Conference:  May 30 - June 1, 2022 in Regina, SK
PAST CONFERENCES
2005 - St. John's, NL
2006 - Montreal, QC
2007 - Calgary, AB
2008 - Québec City, QC
2009 - Whistler, BC
2010 - Toronto, ON
2011 - Halifax, NS
2012 - Saskatoon, SK
2013 - Victoria, BC
2014 - Niagara Falls, ON
2015 - Jasper, AB
2016 - Winnipeg, MB
2017 - Gatineau, QC