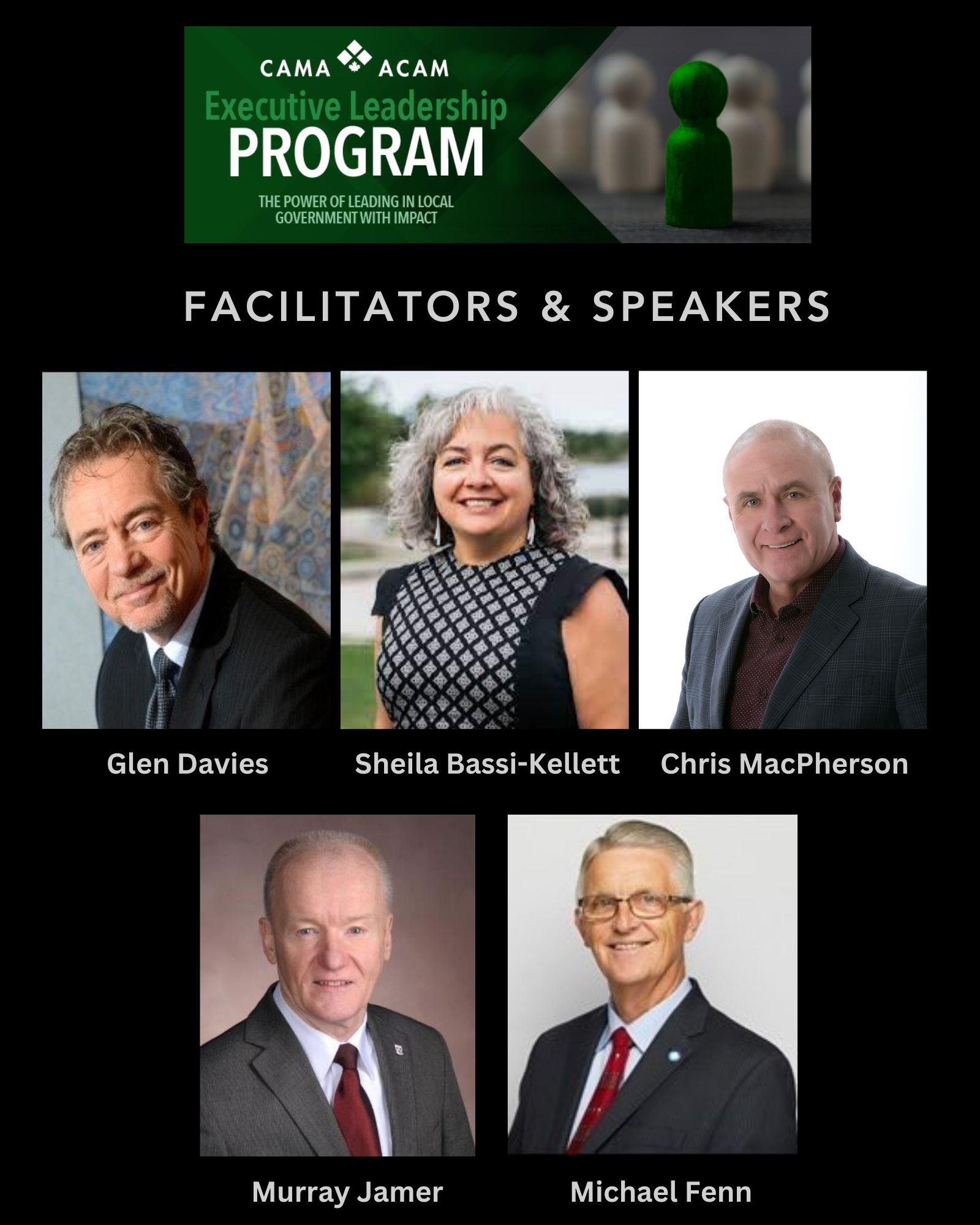 THIS PROGRAM IS SOLD OUT!
SAVE THE DATE:  JANUARY 23-26, 2024 / KINGBRIDGE CENTRE, TORONTO, ON
The CAMA Board is pleased to announce the new Executive Leadership Program which is specifically designed for Chief Administrative Officers and senior managers working in local government in Canada to provide a professional development and networking opportunity for CAMA members across the country to collaborate and learn from experienced CAOs and their peers.  
Chris MacPherson, Retired CAO/CAMA Past President and Honourary Member for Life will be leading these sessions along with the following three other experienced local government leaders:
Sheila Bassi-Kellett, City Manager - City of Yellowknife, NWT/CAMA Board Representative for Northwest Territories, Yukon Territory & Nunavut
Glen B. Davies, Retired CAO, Life/Executive Coach
Murray W. Jamer, P.Eng., Retired City Engineer & Deputy CAO
Michael Fenn, a former Ontario Deputy Minister and CAO, will kick off the program providing his insights on the CAO role.
The best leaders are the ones who keep growing, have long-term resilience, and who rise to the occasion every day to build vibrant communities that improve people's lives.  In today's ever-changing world, effective leadership matters.  Whether you're looking to improve your core leadership skills or need insights and tools to implement and manage change in your organization, this program is designed to address key needs and discuss specific local government topics and trends.  After four days of professional development, you will return to your organization re-energized and ready to inspire growth at all levels.
Participants will be provided with a copy of the recent book entitled "The Role of Canadian City Managers:  In Their Own Words" along with some reading to do before they arrive.  There will be educational sessions on site with exercises and case studies on each topic with CAMA's Toolkits also being used as resources.  On the last day, you will make a short presentation on your own personal leadership plan.  
The Program will focus on the following six key areas that our members have determined to be essential in local government leadership and management:
•    Leadership
•    Strategic Planning
•    Human Resources Management
•    Governance
•    Political Acumen
•    Resilience
The full Program can be found here.
ABOUT THE PROGRAM
Date, Time and Location
Tuesday, January 23 to Friday, January 26, 2024 at the beautiful Kingbridge Centre located 25 minutes from the Toronto Pearson Airport.  Delegates will arrive on Tuesday evening (in time for dinner at 7:00 p.m.) and depart on Friday, January 26, 2024 at 12:00 Noon.
Registration Fee

An all-inclusive registration fee in the amount of $3,395.00 plus 13% HST which includes the following for the duration of the event:

Three night's single accommodations at the Kingbridge Centre.

All professional development networking sessions.

Meals.  Tuesday evening Dinner, all meals and refreshment breaks on Wednesday and Thursday, and Friday morning breakfast and break.

Please note that your airfare to Toronto and your transportation to and from the Toronto Pearson Airport to Kingbridge Centre is your responsibility and at your cost.

How Do You Register?
The registration will open for the Program on Tuesday, September 12, 2023 at 12:00 Noon EST and is on a first come-first reserved basis limiting one member per municipality. Registrants must also be CAMA members.  A $500.00 deposit will be required at the time of registration with the balance due prior to the start of the Program in January 2024.
Number of Participants
A maximum number of 15 delegates will be accepted for this program.
Certification Requirements
The Program provides 16 hours of training and instruction that may be used to fulfill professional development or individual certification requirements for those delegates that are eligible.  A Certificate of Completion will be provided at the end of the Program.
If you have any questions, please don't hesitate to reach out to Jennifer Goodine, Executive Director at admin@camacam.ca