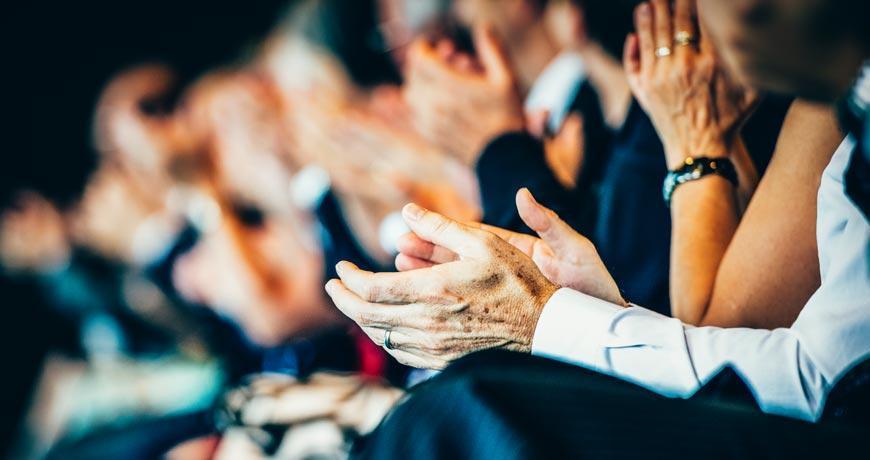 Eight Canadian Municipalities Win National Awards of Excellence
Fredericton, NB (October 1, 2020) – Eight Canadian municipalities have won national awards of excellence from the Canadian Association of Municipal Administrators (CAMA).  The awards were presented in the areas of innovation, environment and professional development during a Virtual Awards of Excellence Ceremony.
Winning efforts included a creative public education effort to teach residents more about their municipal government, an opioids public awareness initiative, a beneficial reuse of storm water management pond sediment, an ecomuseum ecology heritage project, a sea level rise action plan, a coastal flood adaptation strategy, a leadership acceleration program, and an Engineer-in-Training program.
"On behalf of the CAMA board of directors, I am pleased to recognize the innovation and best practices being captured in this years' winning award submissions," said Jake Rudolph, president of CAMA and Chief Administrative Officer for the City of Nanaimo, BC.  "They are a testament to the teamwork and connections needed between staff, stakeholders and citizens to make municipal government work."
The following municipalities and projects were recognized, in three categories, based on their population size:
2020 CAMA Willis Award for Innovation
Town of Saugeen Shores, ON, (Under 20,000 Population Category) – Learn with R.O.S.S. in Saugeen Shores
Strathcona County, AB, (20,001 to 100,000 Population Category) – Opioids Don't Discriminate: An Interactive Experience
City of Waterloo, ON, (Over 100,000 Population Category) – Beneficial Reuse of Storm Water Management (SWM) Facility Sediment – SWM Pond 53 Pilot Study
2020 CAMA Environment Award
Town of White City, SK, (Under 20,000 Population Category) – White Butte Ecomuseum Ecology Heritage Project
City of Campbell River, BC, (20,001 to 100,000 Population Category) – Campbell River Rising Seas
City of Surrey, BC, (Over 100,000 Population Category) – Coastal Flood Adaptation Strategy
2020 CAMA Professional Development Award
District Municipality of Muskoka, ON, (20,001 to 100,000 Population Category) – Leadership Acceleration Program
City of Richmond, BC, (Over 100,000 Population Category) – Engineer-in-Training (EIT) Program
"The scope of projects, from large and small municipalities right across this country, amazed our judging panel," said Tony Kulbisky, Chair for the 2020 CAMA Awards Jury, CAMA representative for Alberta and Chief Administrative Officer for the Town of Devon, AB.  "A total of 36 awards submissions were received and I extend my congratulation to the winners and all those who took the time to enter a submission."
The 2020 CAMA Awards of Excellence were supposed to be presented at the CAMA National Conference, scheduled for the Deerhurst Resort in Huntsville, ON from June 1-3, 2020.  Due to COVID-19, the conference was cancelled, and the awards presented virtually instead.
To find out more about each award, and to see a video summary of each winning project, visit www.camacam.ca/awards and look for the award recipients link.
-30-
Media Contact:
CAMA:  Wayne Knorr, APR, Communications, 506-474-3389, wayne.knorr@fredericton.ca
About the Awards:
The Willis Award for Innovation, awarded in recognition of Jack Willis for his contribution to CAMA, is presented for programs, projects or services that demonstrate exceptional innovation or meritorious initiative. 
CAMA's Environment Award recognizes the commitment of a municipality to environmentally sustainable governance, to protecting the environment and to combating climate change. 
The Professional Development Award recognizes a community that has developed a unique and innovative program for their staff and can be replicated in other communities. 
Since Canada has a unique mixture of small and large communities, awards are granted according to population – for municipalities under 20,000, for those between 20,001 and 100,000 and for those over 100,000. 
About CAMA:
The Canadian Association of Municipal Administrators (CAMA) is a national, non-profit association open to all Chief Administrative Officers / City Managers and any person employed in a senior management position that reports directly to a CAO.  With a membership of over 650 senior municipal employees, from all parts of Canada, CAMA collectively represents more than 80% of the nation's population. www.camacam.ca