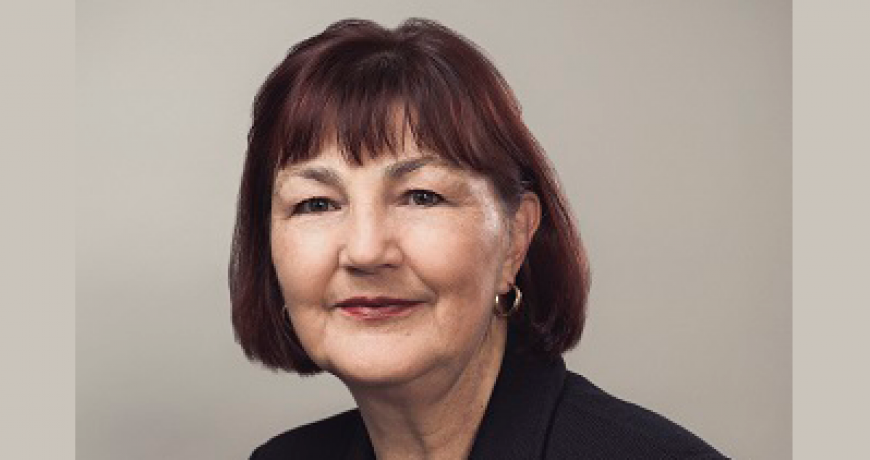 Fredericton, NB (May 11, 2021) – Janice Baker, who has more than three decades of experience in municipal government and fiscal administration, as well as being a long-time member and past president of the Canadian Association of Municipal Administrators (CAMA), has been named an Honorary Life Member of the association.  
The recognition comes during CAMA's 50th anniversary year.  Due to COVID-19 restrictions, the honour was presented during a virtual Awards of Excellence Ceremony held today.  
Baker is currently the Chief Administrative Officer (CAO) of the Region of Peel and was previously City Manager and CAO for the City of Mississauga, ON.  She joined the City of Mississauga in May 1999 as Commissioner of Corporate Services and Treasurer and served as Mississauga's City Manager and Chief Administrative Officer (CAO) from 2005 to 2020. 
Prior to that, she was the Commissioner of Corporate Services and then Commissioner of Public Works for the City of Oshawa, Ontario from 1995-1999, as well as the Director of Finance and City Treasurer for the City of St. John's, Newfoundland from 1991-1994.
Baker joined CAMA in 2005.  She became a member of the CAMA Board of Directors in 2013 and served as the association's Treasurer in 2014 and 2015. In 2016, she served as First-Vice President and in 2017 was elected for a one-year term as President. 
"On behalf of the CAMA Board of Directors, it is my honour to present this year's Honorary Life Member Award to Janice Baker," said Jake Rudolph, outgoing president of CAMA and Chief Administrative Officer for the City of Nanaimo, BC.  "Her career in municipal government, her community involvement, and her dedication to CAMA are exemplary.  She is truly deserving of this recognition."
"I want to sincerely thank the CAMA Board of Directors for this tremendous honour. My year serving as the President of CAMA was a wonderful experience for which I am very grateful," said Baker.  "Being part of a national network of colleagues that I could learn from helped me grow as a leader, and helped fuel my passion for building and serving communities."
During her time at the City of Mississauga, she was responsible for establishing the values of the corporation of Trust, Quality and Excellence. These values guide the City's approach to governance and public service; they are the frame of reference for decision making to this day.
She also led the creation of the city's vision through Mississauga's Strategic Plan.  It was launched in 2009 and set a 40-year vision for the city.  Baker was a strong proponent of developing and retaining "high potential" staff through the City's Talent Management Program. Under her leadership, the City was respected for its financial planning and budget preparation and its strong balance sheet.  
During her career, Baker has received numerous professional awards. This included the 2019 Vanier Medal from the Institute of Public Administration of Canada (IPAC); being a three-time Women's Executive Network (WXN) Top 100 Award winner in the Public Sector Leaders category (2005, 2007, and 2009). She was inducted into the WXN Canada's Top 100 Most Powerful Women's Hall of Fame in 2010. 
Baker was elected to the designation of Fellow from the Institute of Chartered Accountants of Ontario (ICAO) in 2011.  That same year, she received the Excellence in Municipal Finance Award from the Municipal Finance Officers Association of Ontario (MFOA). She also found the time to serve on various municipal and community boards.  
Under her leadership as CAMA's President, she helped launched several initiatives of value to municipal administrators, including a CAO Performance Evaluation Toolkit, a CAO Members in Transition Toolkit, and a Political Acumen Toolkit.  She also contributed to a document entitled "Cultivating Leadership: A Guide for the Next Generation in Local Government".
Baker helped with a "Making Life Happen" campaign to raise awareness of local government with a specific focus of encouraging younger Canadians to consider a career in municipal government.  She was the Chair of the successful CAMA 2018 National Conference held in Fredericton, NB.
Baker becomes the first woman in the association's 50-year history to receive CAMA's Honorary Life Member Award.