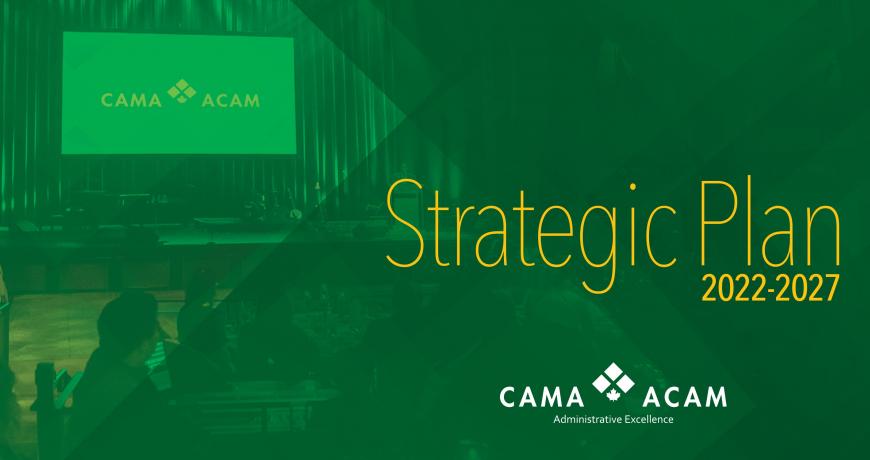 The CAMA Board held a Strategic Planning session at the end of November 2021 where they engaged in a rigorous effort to develop a new plan for our organization. Through member surveys and Board focus groups, we have sought to gather information about the issues that are important to you, and the trends that we see affecting the future of the municipal administrator profession, municipal government and the Association. We tried to respond to the important issues and trends that are shaping our environment.
What does it take to be the premiere national Canadian organization representing municipal administrators?  And how can we do our best to serve our members?These questions served as our guiding light as we collectively mapped out our path for the next five years. We also acknowledged that it's been a difficult two years for you and your communities, and we are confident that we will be stronger together.  Connectivity and relationships with your CAMA network are more important than ever.
This new plan highlights the importance of local government in five strategic pillars, which focus on member engagement and support, professional development, resilient leadership, strategic relationships, and continuing to create a strong, sustainable organization.  The Board recognizes that our membership is made up of communities of all sizes and will continue to offer services and programs that meet the needs of all. 
Along with CAMA's annual core services, the next five years will bring continued promotion of membership to the Association; CAMA Connects and Masterminds networking sessions on relevant topics; enhancements to the Annual Conference; a new CAO Executive Learning Program; developing new toolkits and adapting the current ones; examining the most effective ways to support CAOs with respect to resilience, self-care and wellness; continuing to promote positive CAO-Council relationships; developing the next generation of leaders; reviewing our key stakeholder relationships; exploring revenue generating opportunities with the purpose of providing additional member services; and implementing a Business Continuity Plan for the organization – just to name a few.
It's our expectation that this new plan will also provide us with a blueprint for a stronger Association over the next five years.
Click here to see a quick snapshot of the Vision, Mission, Goals, Core Services and other New Initiatives.
Click here to read the full 2022-2027 CAMA Strategic Plan.
Click here to read the Executive Summary of the 2022-2027 CAMA Strategic Plan.
Click here to see the Report Card of the 2016-2021 Strategic Plan.
A brief presentation will be made at the upcoming virtual Annual General Meeting (May 31st, 2022) highlighting the plan's strategic pillars, goals and objectives.
We look forward to sharing many exciting initiatives with you that will continue to improve local government!

Jack Benzaquen
CAMA President