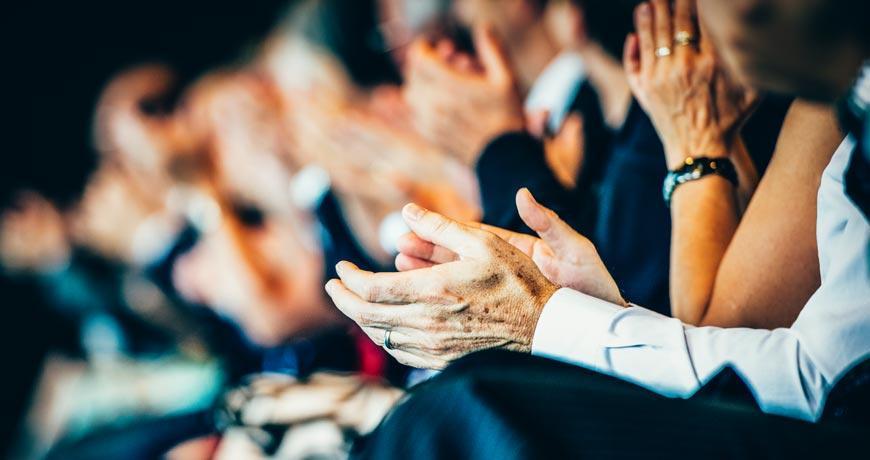 Gatineau, QC (May 30, 2017) – Municipal administrators from across Canada have been recognized by the Canadian Association of Municipal Administrator's (CAMA) with the association's 2017 Long Service Recognition Awards.  
The awards for 20, 25, 30, and 35-years of service were presented at a luncheon held as part of CAMA's national conference taking place in Gatineau, QC.  In total, 26 municipal administrators from across Canada were recognized.  
Five chief administrative officers will be recognized for 40-years of service at the CAMA President's Dinner to be held on May 31 at the Canadian Museum of History.  They include:
Paul Benedetto, City Manager, City of Leduc, AB 
Ronald Campbell, Chief Administrative Officer, Village of Port Alice, BC
Terry Hager, County Commissioner, Lacombe County, AB
Tony Martens, Chief Administrative Officer, Mountain View County, AB
Larry McCabe, Clerk/Chief Administrative Officer, Town of Goderich, ON
"I am really pleased that we are able to recognize so many professional municipal administrators with long service awards," said Marie-Hélène Lajoie, president of CAMA and City Manager for Gatineau, QC.  "It is indeed a rewarding career and these individuals are a great resource to assist the next generation of leaders in our profession."
Letters of congratulations and recognition pins were mailed to municipal administrators having completed 10 and 15 years of municipal service in April 2017.
The breakdown of 2017 Long Services Awards is as follows:  Ten Years of Service – 21 awards; Fifteen Years of Service – 20 awards; Twenty Years of Service – five awards; Twenty-Five Years of Service – 11 awards; Thirty Years of Service – five awards: Thirty Five Years of Service – five awards: and, Forty Years of Service – five awards.  For a complete list of the recipients, visit the CAMA website (www.camacam.ca). 
CAMA's Long Service Recognition Awards program, which was implemented in January 2011, is based on the number of years of full-time, paid employment in a local government in a management capacity, either as a Chief Administrative Officer (CAO) or reporting directly to a CAO.  
The Long Service Recognition Awards are granted after ten years of service and are then given in five year increments.  The Distinguished Member Award recognizes any CAMA member who has been in the position of a Chief Administrative Officer or City Manager position for 25-years or more, and who has been a CAMA member for at least 10 years.  
About CAMA:
The Canadian Association of Municipal Administrators (CAMA) is a national, non-profit association open to all Chief Administrative Officers / City Managers and any person employed in a senior management position that reports directly to a CAO.  With a membership of approximately 550 senior municipal employees, from all parts of Canada, CAMA collectively represents more than 70% of the nation's population. www.camacam.ca
Media Contact: Stacey Murray, admin@camacam.ca, 506-261-3534