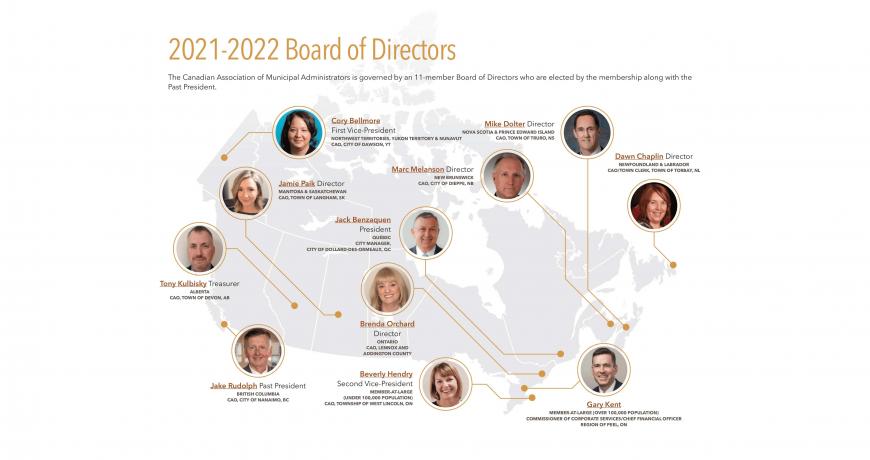 Jack Benzaquen, City Manager for the City of Dollard-des-Ormeaux, QC was elected President of the Canadian Association of Municipal Administrators (CAMA) during the association's annual general meeting held virtually on June 1, 2021.
He is the CAMA Representative for Québec and most recently served as First Vice-President for the association.  He succeeds outgoing CAMA president Jake Rudolph, Chief Administrative Officer for the City of Nanaimo, BC, in leading the 650-member national organization of senior municipal management professionals for the coming year.
"I am honoured to become CAMA President during the association's 50th anniversary year," said Benzaquen.  "Local government is important.  Working with the Board, we will be developing a new vision to guide CAMA for the next five years.  This will factor in what we have learned during the pandemic and assess what municipal leaders now require from their national association.  I am confident this will set CAMA up for another 50 years of success."
 
Benzaquen has been employed since 2000 as a City Manager by the City of Dollard-des-Ormeaux, a city of 50,000 of the West Island on Montreal, Quebec.
Prior to entering the world of municipal administration, Jack worked the first seven years of his career as a project engineer at GoodYear Canada and Johnson & Johnson. In 1991, Benzaquen was hired as Director of Technical Services at the Jewish General Hospital. His achievements were recognized by the Jeune Chambre de commerce de Montréal who named him 'Jeune cadre du Québec' in 1995, and in the following year, the HEC honoured him with an achievement award.
He has a bachelor's degree in electrical engineering from the École Polytechnique, an MBA from the HEC Montreal and a university degree in governance from the Collège des administrateurs de sociétés of the Université Laval.
 
Throughout his career, Benzaquen has been active in his profession and his community serving on various boards and committees. He was President of the Association des directeurs généraux des municipalités du Québec (ADGMQ) from 2011 to 2014 and is currently the President of the Centre d'expertise et de recherches en infrastructures urbaines (CERIU), since 2019.
 
Benzaquen joined the CAMA Board in 2014, as a member of the Strategic Planning Implementation Team and a Member of the 2015 Jasper Conference Planning Committee.  In 2015 he was the Chair of the Code of Conduct Committee and a Member of the Strategic Planning Implementation Team.
 
He was chair of the Awards Committee in 2017 and in 2018, he became the association's Treasurer and served as the Conference Liaison for the 2019 Quebec City Conference. In 2019 he was Second Vice President and also Chair of the Strategic Planning Committee.
In 2020, Benzaquen became CAMA First Vice President, was Chair of the Strategic Planning Committee, a member of the Professional Development Committee, and chairs the recently formed Human Resources Toolkit Committee.
 
Vincent Lalonde, P.Eng., City Manager for the City of Surrey, BC joined the CAMA Board of Directors at the annual general meeting.  He was acclaimed to the position of the CAMA Representative for British Columbia.  The 2020-2021 CAMA Board of Directors includes:
Jack Benzaquen, President, Québec / City Manager, City of Dollard-des-Ormeaux, QC
Cory Bellmore, First Vice-President, Yukon Territory, Northwest Territories, and Nunavut / CAO for the City of Dawson, YT
Beverly Hendry, Second Vice-President, Member-At-Large for Municipalities with a Population Under 100,000 / CAO for the Township of West Lincoln, ON
Tony Kulbisky, Treasurer/ Representative for Alberta / CAO for the Town of Devon, AB
Jake Rudolph, Past President / CAO for the City of Nanaimo, BC
Vincent Lalonde, British Columbia, City Manager for the City of Surrey, BC
Marc Melanson, New Brunswick / City Manager for the City of Dieppe, NB
Dawn Chaplin, Newfoundland and Labrador / CAO/Clerk, Town of Torbay, NL
Mike Dolter, Nova Scotia & Prince Edward Island / CAO, Town of Truro, NS
Jamie Paik, Manitoba & Saskatchewan / CAO, Town of Langham, SK
Brenda Orchard, Ontario / CAO, County of Lennox & Addington, ON
Gary Kent, Member-At-Large for a Municipality with a Population Over 100,000 / Commissioner of Corporate Services and Chief Financial Officer, Region of Peel, ON