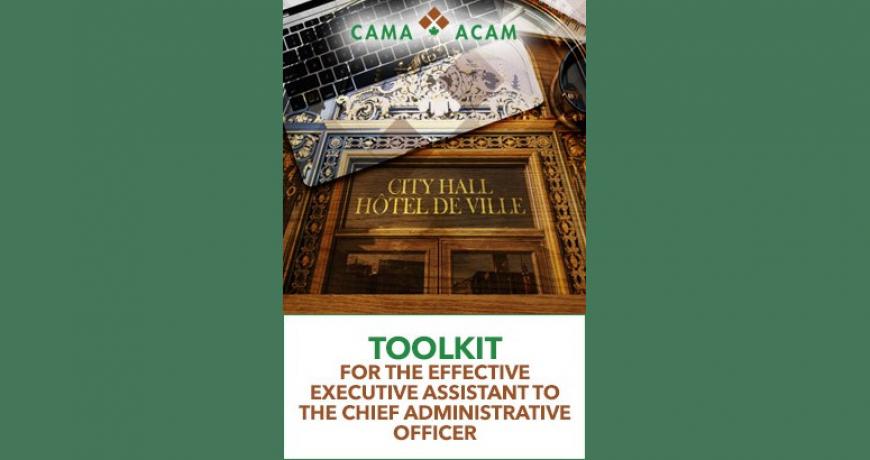 Having appreciation for the role of the Executive Assistant in local government, the Board of the Canadian Association of Municipal Administrators (CAMA) developed a "Toolkit for the Effective Executive Assistant to the Chief Administrative Officer" which was launched during a presentation at the 2023 CAMA Conference at the Deerhurst Resort.
This Toolkit was compiled, produced and authored by Jennifer Goodine, CAMA Executive Director (and former Office Administrator to the CAO and Mayor of the City of Fredericton), with the assistance of a National Committee of the following local government Executive Assistants that work, or have worked, with CAOs and senior managers from across Canada, from all size municipalities.
Cassandra Rutland, Executive Assistant to the Chief Financial Officer and Commissioner of Corporate Services, Region of Peel, ON
Beth Readman, Executive Assistant to the CAO & Administration, County of Lennox and Addington, ON
Victoria Bowering, Executive Assistant to the CAO's Office, City of Nanaimo, BC
Elizabeth Grenon, Executive Assistant, City of Dawson, YT
Jacquie Thrower, Executive Assistant, Township of West Lincoln, ON
Roxana Dima, Executive Assistant to the City Manager, City of Dollard-des-Ormeaux, QC
Safiya Khan, Asset Management Specialist, City of Mississauga, ON
Tracy Hart, Executive Assistant, Office of the CAO, Town of Truro, NS
Denise Habibovic, Retired Executive Assistant to the Chief Financial Officer and Commissioner of Corporate Services, City of Mississauga, ON
The primary audience of this Toolkit is the Executive Assistant to the CAO in local government, which includes existing Executive Assistants with experience in the role, as well as new Executive Assistants with minimal local government experience.
"While this Toolkit is meant to be a resource to Executive Assistants in local government, it is also focused on how a CAO or senior manager can effectively use their Executive Assistant to improve their own productivity and build a successful partnership" said Bev Hendry, CAMA President and CAO for the Township of West Lincoln, ON.  "Thank you to our members, and your Executive Assistants, who completed our 2022 survey so that we could provide a Canadian perspective on the Executive Assistant to the CAO role, hearing from both sides."
The Toolkit will help Executive Assistants, gain a new perspective on their role and highlight the many benefits that they bring to the CAO, the organization, and the community.  It provides an introduction to local government and the various roles and responsibilities of those positions; insight into the role as the Executive Assistant; offers tips on the many office and leadership skills that are practiced every day; political acumen tools, as well as best practices on building relationships and networking, exercising self-care, and how to adapt to new leadership – just to name a few.  There are also "words of wisdom" from Executive Assistants across the country, along with some case studies of real-life scenarios, downloadable resources, and links to additional materials that will support this profession.
As well, it provides the CAO with some guidance on ways to build a partnership with your Executive Assistant.  The topics in the CAO Chapter include the hiring process (with a sample job description, posting, and interview questions), a business case to Council if you don't currently have a staff member in this position, finding the right personality and fit, and some tips on communication, performance evaluations, and delegation.  The CAO Chapter has been provided in a separate document for easy reference or on Page 143 of the Toolkit.
"The more effective the Executive Assistant, the more effective the CAO…and the more effective the organization, Council, and the community.  We hope that this resource will assist Executive Assistants and CAOs to build stronger working relationships based on increased trust and improved communication."  said Jennifer Goodine, CAMA Executive Director.  "I was honoured to work with an amazing team of Executive Assistants across the country who have brought their firsthand experiences in local government, specifically to the CAO and other senior managers, to the development of this guide."