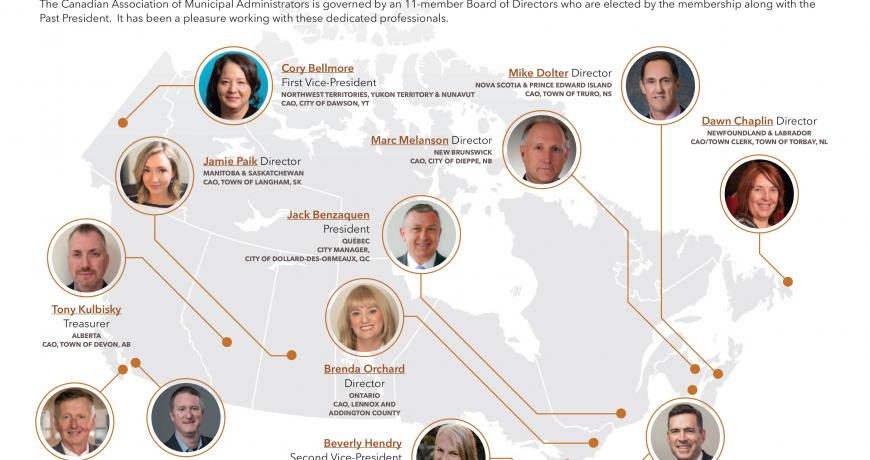 Fredericton, NB (May 31, 2022) – Cory Bellmore, Chief Administrative Officer for the City of Dawson, YT was elected President of the Canadian Association of Municipal Administrators (CAMA) during the association's annual general meeting held virtually on May 31, 2022.  
She is the CAMA Representative for the Northwest Territories, Yukon Territory and Nunavut and becomes the association's first-ever First Nations president.
Bellmore most recently served as CAMA's First Vice-President.  She follows outgoing CAMA National President Jack Benzaquen, City Manager for the City of Dollard-des-Ormeaux, QC in leading the 650-member national organization of senior municipal management professionals for the coming year.
"I am very proud to represent the CAO profession across Canada, and especially in the northern part of the country, by serving as the CAMA National Board president," said Bellmore. "During my term, I look forward to continuing with the direction outlined in CAMA's five-year Strategic Plan. With things settling down from the pandemic, and everybody craving human interaction again, I am especially looking forward to seeing our members in person at our 2023 Annual Conference." 
Bellmore joined the City of Dawson, YT as their Chief Administrative Officer (CAO) in March 2018, after leaving her post as CAO for the Village of Carmacks; a position she had started in 2006. Since 2003, she has served as a director for the Carmacks Development Corporation. 
Prior to entering the world of municipal administration, Bellmore served a term on Council for the Village of Carmacks. Her career in public service began shortly after Little Salmon Carmacks First Nations signing of Land Claims and Self Government. As a Director of Finance and Administration for LSCFN, she learned about, and helped build, a local government structure.
She was recognized for her contributions to municipal government in 2009 from the Association of Yukon Communities with the annual Municipal Employee Award of Excellence. She has also represented Yukon communities on the renegotiation and restructuring of the annual territorial grant for municipalities, as well as the review and updating of the Yukon Government Municipal Act. 
In 2001, Bellmore received a BComm from the Hayskane School of Business, University of Calgary. She earned an Arts and Science Certificate from Mount Royal College in 1999.  
She is a proud citizen of the Little Salmon Carmacks First Nation and belongs to the crow clan (Hanjet). Bellmore and her family love living in the Yukon, learning and teaching traditional culture and values, as well as enjoying the amazing wilderness.
Bellmore joined the CAMA Board in 2017 as the first representative for the Northwest Territories, Yukon Territory and Nunavut. She became Treasurer in 2019, Second Vice-President in 2020, and First Vice-President in 2021.  She currently chairs the Membership Committee and has been a member of the Conference Committee, Communications Committee and the Policy Taskforce over the past five years.
Two new municipal administrators joined the national board at the AGM: Rodney Cumby, City Manager for the City of Corner Brook, NL and CAMA Representative for Newfoundland and Labrador; as well as, Raffaelle Di Stasio, City Manager, City of Montreal West, QC and CAMA Representative for Québec. The 2022-2023 CAMA Board of Directors includes:
Cory Bellmore, President, CAMA Representative for Northwest Territories, Yukon Territory and Nunavut / CAO for the City of Dawson, YT 
Beverly Hendry, First Vice-President, CAMA Member-At-Large for Municipalities with a Population Under 100,000 / CAO for the Township of West Lincoln, ON
Tony Kulbisky, Second Vice-President, CAMA Representative for Alberta / CAO for the Town of Devon, AB
Brenda Orchard, Treasurer, CAMA Representative for Ontario / CAO, County of Lennox & Addington, ON
Jack Benzaquen, Past President / City Manager, City of Dollard-des-Ormeaux, QC
Rodney Cumby, CAMA Representative for Newfoundland and Labrador / City Manager, City of Corner Brook, NL
Mike Dolter, CAMA Representative for Nova Scotia & Prince Edward Island / CAO, Town of Truro, NS
Marc Melanson, CAMA Representative for New Brunswick / City Manager, City of Dieppe, NB
Raffaelle Di Stasio, CAMA Representative for Québec / City Manager, Town of Montreal West, QC
Gary Kent, CAMA Member-At-Large for a Municipality with a Population Over 100,000 / Commissioner of Corporate Services and Chief Financial Officer, Region of Peel, ON
Jamie Paik, CAMA Representative for Manitoba & Saskatchewan / CAO, Town of Langham, SK
Vincent Lalonde, CAMA Representative for British Columbia, City Manager for the City of Surrey, BC