Membership Referral Program – Sign Up a Colleague & Win!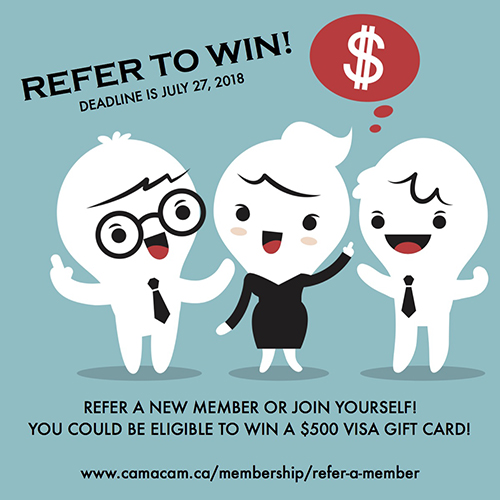 The second and each additional member from every individual municipality can join CAMA for only $137.50!
Ask any CAMA member what the most important benefit of membership is, and you will hear an answer that mentions networking, peer interaction and knowledge sharing.  By keeping our membership growing with young talent, we improve these benefits for everyone!   See our latest video about CAMA.
If you refer a new member before July 27th, 2018, both you and your referral will be entered in a draw to 
Each Win a $500.00 Visa Gift Card!
How does the Member Referral Program work?
Simply refer a friend, colleague or acquaintance who works in the municipal government field and encourage them to fill out the online membership application.  Once they are registered as a CAMA member, your name will be entered in the draw. (Please ensure the applicant lists you as the referring member in the appropriate field on the form!)
As a special offer for this campaign new members will receive 50% off our already great value membership fees for the first year.
So, consider who in your organization is ready for leadership development, as well as neighbouring local government leaders who would benefit from access to CAMA`s resources, and send them this link today! 
Guidelines for the Program:
1.  This program is open to all current CAMA members.
2.  Your ballot for the Visa Gift Card will be entered for both the referrer (you) and your referral when the referral joins and activates his/her membership.   If your ballot is the winner then you will win a $500.00 gift card and your referral will also win a $500.00 gift card.
3. To be entered in the draw, your name must be written in the "Referred by Member" section of the online membership application form.
4. CAMA Board members are not eligible to be entered in the draw.
Bonus! All CAMA members may also become an International City/County Managers Association (ICMA) member for only $135.00 US.  ICMA also has great online resources for municipal administrators from communities of all sizes. 
The program ends on July 27th, 2018.  All referrals must become members during this period to qualify.
We look forward to welcoming your colleagues to our great organization and hopefully seeing you  in Quebec City at our Annual Conference (May 27 –  29th, 2019).